We are in awe of the inspiring innovations that we read about daily that can help the world deal with the climate change challenge. Not only are there constantly new ideas, but these ideas are finding funders. Three such funders are: THE MaRS CLIMATE IMPACT CONFERENCE, THE EARTHSHOT PRIZE AWARDS (announced recently by the Royal Family), and the UK's FARADAY BATTERY FUNDING, an effort to encourage cooperation in the mass development of the Battery Industry. This blog will highlight several cool innovations that can help save our planet and the supporters of these innovations.
MaRS CLIMATE IMPACT INNOVATION CONFERENCE
"MaRS Climate Impact is a new innovation conference that leverages business and private capital for social good. The event brings together the cleantech and social-finance communities — as well as big-time players from the ecosystem — for one comprehensive online experience. The worlds of clean innovation and investment are inextricably linked. But ensuring their mutual success requires dialogue, as well as a showcasing of groundbreaking solutions to advance both a healthy planet and prosperity."
"MaRS Climate Impact will feature the most promising ideas and companies solving for the transition to net zero. Meet the brilliant minds driving climate action on a global scale: entrepreneurs, investors, business leaders, finance professionals, academics, journalists and policymakers."
This online conference is happening starting in November, should you choose to sign up.
https://climateimpact.marsdd.com
Celebs Join Prince William: Earthshot Prize Award
"Celebrities joined Prince William in London on Sunday October 17, 2021 for the inaugural awards ceremony of his Earthshot Prize, an ambitious environmental program that aims to find new ideas and technologies around the world to tackle climate change and Earth's most pressing challenges."
"The winners announced Sunday included:
the government of Costa Rica, which was honored for a project that pays local citizens to restore natural ecosystems
the city of Milan, which was handed a prize for its Food Waste Hubs program, which recovers food from supermarkets and restaurants and distributes it to those in need."
"Actors Emma Thompson, Emma Watson and David Oyelowo joined William and Kate, the Duchess of Cambridge, in handing out the awards at Alexandra Palace in north London. Guests were asked to "consider the environment when choosing their outfit," and Watson arrived wearing a gown made from 10 wedding dresses from the charity Oxfam. Kate wore an Alexander McQueen dress made for her in 2011, while her husband wore a dark green velvet blazer and a polo neck."
"William and his charity, The Royal Foundation, launched the Earthshot Prize last year, inspired by President John F. Kennedy's 1962 "Moonshot" speech that challenged and inspired Americans to go to the moon."
"The prize, to be awarded to five winners every year until 2030, is billed as the most prestigious of its kind. Each winner will receive a grant worth 1 million pounds ($1.4 million) to develop and scale up their ideas. "There's been lots of amazing ideas over the past decades but it's the implementation that really counts, so that's what this is all about. So it's really a reason to be cheerful," Thompson said."
"The other winners were:
a land-based coral farm in the Bahamas to restore dying coral reefs;
a green hydrogen technology developed to transform how homes and buildings are powered;
an India-based technology that creates fuel from agricultural waste in a bid to stop crop burning."
"William has said he wanted the initiative to inject some optimism into the climate debate, and on Sunday he urged young people not to give up hope for the future. "For too long, we haven't done enough to protect the planet for your future. The Earthshot is for you," he said. "In the next 10 years, we are going to act. We are going to find the solutions to repair our planet." The United States will host next year's award ceremony, he added. This ceremony came days ahead of the COP26 U.N. climate change summit in Glasgow."
Sylvia Hui of The Associated Press
Funding The UK's Next Generation Batteries for Electric Vehicles
"Seventeen projects making electric vehicle (EV) batteries safer, more powerful, cheaper, faster-charging and easier to recycle have been announced shared across businesses and research institutions across the UK."
"£10 miIlion of FARADAY BATTERY CHALLENGE FUNDING is being used to help build a better British battery industry for the future of zero-emission travel. The projects include a consortium led by LiNa Energy that will develop a new sodium nickel chloride battery system, leading to improved cell performance, and manufacturing optimised for scale-up, decarbonization and recycling. Another, led by Anaphite Ltd, aims to develop faster charging batteries by incorporating graphene into the battery cathode."
"This funding comes shortly after the official opening of UK Battery Industrialization Centre (UKBIC) on 15 July by the Prime Minister. Based in Coventry and part-funded through the Faraday Battery Challenge, UKBIC is a is battery manufacturing development facility, which provides a link between battery technology and mass production. This will support the UK's ambitious climate change targets, including achieving net zero carbon emissions by 2050 and ending the sale of petrol and diesel cars and vans by 2030."
"With the sale of electric cars rising rapidly in 2020, more and more EVs are appearing on the market. The battery industry is developing ways to electrify other forms of transport, including boats, planes and off-highway vehicles, like diggers." (https://bit.ly/3mr4GAi – July 27, 2021)
Canadian Shoes That Turn Into Apple Trees
"A Toronto designer, Luc Houle, created a pair of shoes that eventually turn into an apple tree after he spent seven years in the fashion industry and looked for more sustainable choices. The shoes look like a normal, canvas sneakers but they are made with biodegradable materials and have an apple seed hidden in the sole. They are cushiony, lightweight and water resistant, and come in black and white."
"The idea came to Houle while he was working in the fast fashion industry, which pumps out a lot of cheaply made clothes that end up in landfills. The soles of shoes are usually made of plastic, which takes hundreds of years to biodegrade. So after about three years developing the technology and creating a prototype, he came up with Johnny, named after Johnny Appleseed (John Chapman) who introduced apple trees to Ontario and many northern U.S. states in the 1800s."
"The apple seed is released as the shoe biodegrades. The shoes won't biodegrade on your feet and should last as long as a typical shoe but when worn out, they can be buried. A compound in the sole remains dormant until the shoes are planted underground. Once buried, they attract naturally occurring microbes to break down the entire outsole within three years. Halfway through the process, an apple seed coated with a natural fertilizer is released and begins to take root. "If you're going to plant it in the ground, why don't you put a tree seed in there," he says. Houle adds he had help from a Canadian friend in China who is working with ethical factories there to make the shoes. The materials sourced are also fair trade."
(BlogTO at https://bit.ly/2XWweUQ)
Air Fuel from Oilseed Crop in the USA
"On October 15, 2021, in Canadian Biomass Magazine, is a report about new biofuels, a sustainable aviation fuel derived from a type of mustard plant that could reduce flight carbon emissions by about 68 per cent, research from a University of Georgia scientist suggests."
"Puneet Dwivedi, associate professor in the Warnell School of Forestry and Natural Resources, is leading a team studying oil obtained from Brassica carinata, a non-edible oilseed crop. He said Carinata-based SAF could help reduce the aviation sector's carbon footprint and create economic opportunities. Carinata is grown as a winter crop in the U.S. south and doesn't compete with other food crops. Dwivedi added it provides cover-crop benefits associated with water quality, soil health, biodiversity and pollination."
Reusing Take Out Containers in Toronto, a More Sustainable Idea
Wing SzeTang, Special to the Toronto Star Sept. 23, 2021
"Pop quiz: when you buy takeout that comes in black plastic, should the packaging go into the garbage or blue bin? Ask the City of Toronto and you'll learn that (surprise!)no black plastic of any kind is accepted for recycling by the municipality. This is partly because the optical sorting machines used just can't recognize the colour. So the city's answer: dump directly into the trash."
"But ask Catherine Marot, founder of CASE, and she has a smarter idea: that takeout plastic need not be thrown out after a single meal. After all, why toss a totally functional container when a restaurant has to buy that exact same container again? Her startup has figured out a circular system, supplying Toronto food businesses with plastic containers otherwise destined for the landfill."
"If you have cleaned, reusable plastic takeout containers that meet Marot's specs (#5 polypropylene containers in various sizes and colours are accepted), you can donate them to Case through one of her public collection boxes, set up at participating grocery stores and farmers' markets in Toronto."
"Today, Marot spends virtually all her time collecting and sorting heaping piles of plastic containers, taking them to be thoroughly sanitized and then supplying them back to restaurants that want to buy them. It's a process she describes as "extremely laborious" but meaningful; to date, she's collected 60,000 containers that would've wound up in the trash."
"I really believe in the impact that this can have," she says, "and I'm just someone who was like, you know, I'll get the ball rolling." (Toronto Star article at: https://bit.ly/3pPQZ0b)
Ontario Designs Blue Roofs To Mitigate Flooding Effects of Storms
From CBC What on Earth April 22, 2021
"You've probably heard of a green roof, which sits on top of a building and is covered with vegetation. But what about a blue roof? You might have guessed that it has something to do with water. Indeed, a blue roof collects stormwater through a pond system, temporarily stores it and gradually releases it afterward — offering a way to conserve water and prevent water damage. During a storm, rainwater can overwhelm urban sewer systems and send contaminated, untreated water into lakes and rivers. A blue roof could help solve this problem."

"It's a new form of green infrastructure," said Rohan Hakimi, an engineer in integrated water management with Credit Valley Conservation in Ontario. Hakimi said the benefit of blue roofs is most evident in industrial commercial areas, which make up almost 30 per cent of commercial lands in cities."

"When it rains in these areas, because of all these hard surfaces, the water doesn't have anywhere to go, so you get a lot of runoff and risk of flooding." Water damage has become the leading cause of personal property claims in Canada, said Bruce Taylor, president of Environment Stewards, a company that provides businesses with sustainable solutions to environmental challenges. He said our current urban infrastructure was not designed for the extreme weather conditions we are increasingly experiencing as a result of climate change."

"With climate change, you won't get the same amount of precipitation but you get it in a shorter duration in bigger, shorter storms," Taylor said. "If you get water faster than you designed for, then it fills up and it starts backing up and you get flooding. And flooding is very expensive wherever that occurs."

"A blue roof system stores rainwater and slowly releases it using flow-control devices or structures, from customized trays to existing building risers that cause water to dam up. Together, they act as a temporary sponge, collecting and then releasing the water over time. The stored water also provides the building with a cooling effect through evaporation, as well as additional water for reuse."

"Enviro-Stewards will be doing an impact assessment for two community organizations based in London, Ont., including a food bank, where the water stored in the roof will be used for irrigation in their greenhouses and gardens, said Taylor. An "active" blue roof has a greater capacity than a "passive" one, allowing it to store water for a longer period of time and releasing it at a faster rate. Since the food bank doesn't have the pool liner required for an active roof, they implemented a slow-release roof drain as a passive blue roof." — Vicky Qiao, at CBC : https://bit.ly/3jQxNLJ
American Designer Creates Wind Turbine Walls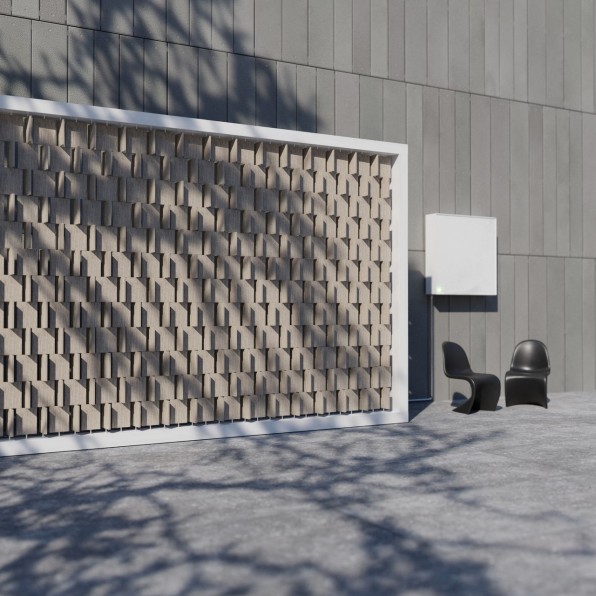 "What if we could build wind turbines in our cities, right here in our own backyards? Not the tall and bulky poles with the huge spinning blades, but a new kind of wind turbine—one that could hide in plain sight and easily be mistaken for a wall?"
"American designer and entrepreneur Joe Doucet has created such a concept, and it looks like a kinetic art installation. His wind turbine wall consists of a grid of square panes spinning simultaneously along 25 axes. The exact size and format aren't set in stone, so variations of that wall could be used anywhere with a decent span, like on the side of a highway or the fence around a building. In other words, it could make wind farms even more pervasive—not just in the ocean but also on land. This ingenious wall could harness enough energy to cover your electric bill."
"In its current iteration, the wall is made up of 25 off-the-shelf wind turbine generators (the middle part the blades spin around). These are attached to 25 vertical rods with square panels attached alongside them. Right now, the wall is 8 feet tall and 25 feet wide, but the concept can be scaled. "You could have 25-foot rods clad entire buildings," says Doucet. The only challenge would be to get the weight ratio right, so to make it lighter, Doucet envisions a framework made of aluminum, which can then be clad with any lightweight material." (FastCompany.com at – https://bit.ly/3vYaG6W)