Thirty-Nine Fun Ways to Celebrate Earth Month
Thank you to our young artist Emily, for making us this beautiful bluejay picture to celebrate Earth Day which is this Friday April 22, 2022. Here are plenty of ways you can get outside and celebrate Earth Week/Month, no matter where you live, and the best part is most of these won't cost you a dime!
Climb a tree (if you are young and able)
Go geocaching
Kick rocks
Make an acorn whistle
Learn how to ID trees
Clean up your local environment
Go on a mushroom walk
Pull invasive species
Plant native trees
Make a nature crown
Dry your clothes outside
Get your OM on
Dust off your bike
Support your local farmer
Go forest bathing
Break out the boats
Do some outdoor yoga
Go stargazing
Make a full moon infusion
Go horseback riding
Start gardening
Make a nature mandala
Host a farm to table dinner
Harvest the rain
Tour your local waterfalls
Build a simple rock cairn
Plan a scavenger hunt
Break out the binoculars
Have a back yard movie night
Macro or bird or landscape or plant photography
Have an eco picnic
Build a fairy house
Toss a ball
Get your compost on
Brighten up the scenery
Pitch a tent
Befriend your local pollinators
Check the air filter in your car
get rid of your old tires
These ideas were taken from One Tree Planted this month and you can go to their site to get more details on each suggestion. https://rb.gy/kj4gkq
Tapping into Indigenous Knowledge on Climate Change
Several Youtube videos have been created to share the wealth of Indigenous knowledge of how our Canadian land and climate has changed over time and projections of changes into the future. One YouTube video (first image below) taps into Indigenous knowledge of how climate change is affecting their communities. This interactive map of Canada allows each of us to look at projections for Indigenous communities across Canada (and cities as well) as to how the weather will change over time and what effect that will have on growing food. It is a "Climate Atlas of Canada". Lucy went to this interactive map and clicked on 'Edmonton' and it shows how many days/year in future we can expect to have greater than 30 degrees Celsius. That is just one of many projections one can access. Push buttons to see about precipitation, cold weather, flooding, ability to grow certain crops and more anywhere in Canada. There are three Indigenous Knowledge Youtube videos:
Wind Power on the Prairies
Our Planet in Peril (by Sheila Watt Cloutier, set in norther Quebec)
https://www.cbc.ca/news/science/climate-change-climate-atlas-indigenous-knowledge-1.6384612
Innovations:
'Brilliant Planet' Creates Algae Farms to Decarbonize the Air
"Brilliant Planet is unlocking the power of algae as an affordable method of permanently and quantifiably sequestering carbon at the gigaton scale. The company's innovative processes enable vast quantities of microalgae to grow in open-air pond-based systems on coastal desert land. This is achieved without using freshwater, by harnessing a natural process that contributes to the health of oceans and air."
"The process itself is essentially solar-powered — because the algae are effectively powered by the sun — but also needs to run pumps to move seawater around. There are two perks to its method: Unlike some other competitors the CEO is very careful not to name on the record, the company doesn't use any freshwater in its process, and, in addition, the process helps de-acidify the ocean water it does use."
"We have to move very large volumes of seawater around, and that uses energy, but we've done a lot of design work around running the system extremely energy-efficiently. So gravity feeds down through most of the system from one pond into the next."
A PNNL 'Freeze-thaw Molten Salt Battery' for Seasonal Storage of Wind and Solar Energy
Pacific Northwest National Laboratory (PNNL) has created a molten-salt battery that can freeze solar and wind energy for months, so has been designed to help store immense amounts of energy for when turbines can't spin or the sun isn't out. The new freeze-thaw battery locks in energy for months when the active material inside it goes from liquid to solid. Then, when warmed up, it can discharge 90 percent of that stored energy. Most grid storage today relies on expensive lithium-ion batteries, or on lead-acid batteries, which bear the burden of toxic lead. So there is a growing effort to develop new battery technologies such as flow batteries.
"The new PNNL battery is a type of molten-salt battery, a technology that has been around for a few decades. It typically uses a molten salt—a material that is solid at room temperature but liquid at higher temperatures—as the electrolyte that allows charge to flow between the electrodes. The new PNNL design is based on common, low cost, and less reactive materials and charges at a lower temperature than other older versions. PNNL hopes to get the cost as low as $6/kWh which is about 15 times less than the materials cost of today's lithium-ion batteries."
"You can start to envision something like a large battery on a 40-foot tractor-trailer parked at a wind farm," said Vince Sprenkle, a senior strategic advisor at PNNL and co-author of the paper. "The battery is charged in the spring and then the truck is driven down the road to a substation where the battery is available if needed during the summer heat."
Harnessing Bioluminescent Organisms to Light our Cities
Organisms as diverse as fireflies, fungi and fish have the ability to glow through bioluminescence.
"Founded in 2014, Glowee is developing a liquid raw material – in theory endlessly renewable – made of bioluminescent microorganisms. It is cultivated in saltwater aquariums before being packaged in the aquarium tubes. The manufacturing process, claims Rey, consumes less water than manufacturing LED lights and releases less CO2, while the liquid is also biodegradable. The lights also use less electricity to run than LEDs, according to the company, although the Glowee bulbs produce fewer lumens of light than most LED bulbs. While Glowee's lights are currently only available in standard tubes for events, the company is planning to produce several types of street furniture, such as outdoor benches with in-built lighting, soon."
"However, Carl Johnson, professor of biological sciences at Vanderbilt University, believes there are serious challenges still ahead before bioluminescence can get the green light for large-scale deployment. Glowee is doing research to address such problems and has set up negotiations with 40 cities in Europe."
""The application of synthetic biology onto bioluminescence is a massive opportunity," says Wood, who is now developing a bioluminescent plant for the company Light Bio."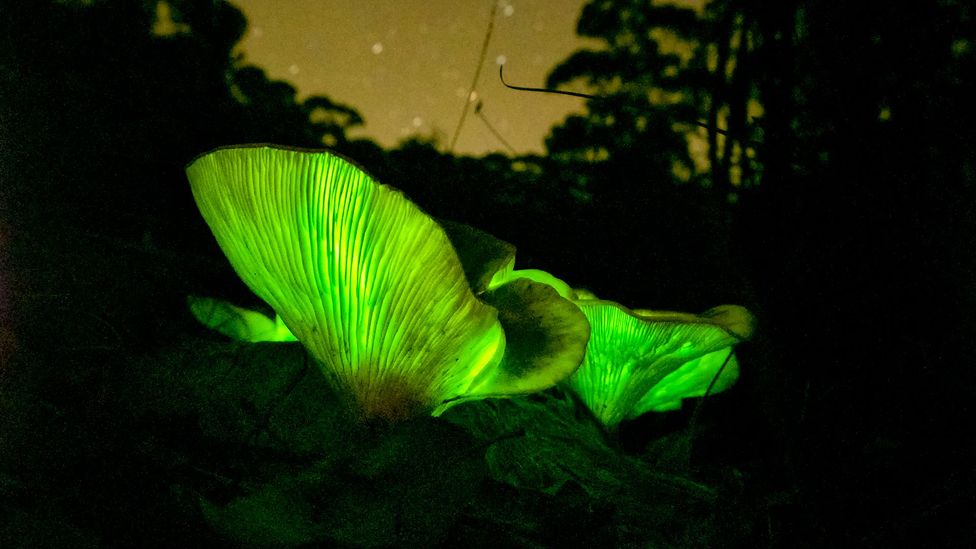 shorturl.at/biBCZ. from BBC Future Magazine
Updates Worldwide on Wind and Solar Energy
According to an article by Bloomberg, solar and wind power complement each other well. Solar photovoltaic generation tends to be weaker in winter and non-existent at night. Wind, on the other hand, performs better at those times. Solar power energy worldwide is estimated to provide 245 gigawatts of photovoltaic capacity in 2022, which is a third more than was installed in 2021 and at present is being produced at 7.5% above the estimated expectation. Good news! This is equivalent to about 2/3s of the world's total installed nuclear capacity. Unfortunately wind energy is not moving according to plan. It is taking time around the world for countries to get permits, so has more road blocks. The Global Wind Energy Council says it may only reach 64% of the 2030 wind power requirements needed to hit net zero.
Have a wonderful Earth Month and we do hope you get outdoors to enjoy and appreciate our beautiful and delicate planet EARTH.